2014-2015 Master Lists
Grades 3-5
Summer of the Gypsy Moths/ Sara Pennypacker
From Clementine author Sara Pennypacker, this is a poignant middle-grade novel about two foster children who must find a way to work together in order to survive.
Eleven-year-old Stella misses her (unreliable) mom, but she loves it at great-aunt Louise's house. Louise lives on Cape Cod, where Stella hopes her mom will someday come and settle down. The only problem? Angel, the foster kid Louise has taken in. The two girls live together but there's no way they'll ever be friends.

Then Louise suddenly passes away one morning—and Stella and Angel decide not to tell anyone. Now they have to depend on each other for survival. Now they are forced to trust each other with the biggest secret ever.
With great empathy and humor, Sara Pennypacker tells the story of two very different girls who unexpectedly become each other's true family.
Reprinted by permission of publisher, HarperCollins. Copyright 2012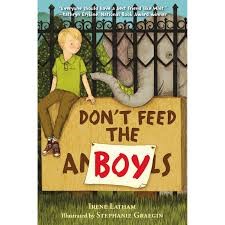 Don't Feed the Boy/ Irene Latham
Meadowbrook Zoo. It's one of the perks of having a mother who's the zoo director and a father who's the head elephant keeper. Now that he's eleven, Whit feels trapped by the rules and routine of zoo life. With so many exotic animals, it's easy to get overlooked. But when Whit notices a mysterious girl who visits every day to draw the birds, suddenly the zoo becomes much more interesting. Who is the Bird Girl? And why does she come by herself to the zoo?
Determined to gain her trust, Whit takes the Bird Girl on his own personal tour of the zoo. He shows her his favorite animals and what happens with them behind the scenes. For Whit, having a friend his own age that he can talk to is an exciting new experience. For Stella the Bird Girl, the zoo and Whit are a necessary escape from her chaotic home life. Together they take risks in order to determine where it is they each belong. But when Stella asks Whit for an important and potentially dangerous favor, Whit discovers how complicated friendship and freedom-- can be. Reprinted by permission of publisher, Houghton Mifflin Books for Children. Copyright 2012
The Adventures of Beanboy/ Lisa Harkrader
Never underestimate the power of the bean.
Tucker MacBean has been drawing comic books almost as long as he's been reading them. When his favorite comic has a contest for kids, he hopes he has finally found a way to fix his family—all he has to do is create the winning superhero sidekick . . . Introducing "Beanboy"—the first comic book character to truly harness the power of the bean for good. He is strong, he is relentless, he can double in size overnight (if given enough water).
With thoughtful characterizations and copious comic book illustrations, this laughout-loud novel will have readers rooting for a superhero with true heart. Reprinted by permission of publisher, Holiday House. Copyright 2012
Malcolm at Midnight/ W. H. Beck
When Malcolm the rat arrives as the pet at McKenna School, he revels in the attention. He also meets the Midnight Academy, a secret society of classroom pets that keeps the nutters (kids) safe. There's just one problem…rats have a terrible reputation! So when the Academy's iguana leader is kidnapped, Malcolm must prove his innocence—and that even rats can be good guys. Illustrated by Brian Lies of Bats at the Beach, this engaging middle-grade novel will have readers rooting for Malcolm as they try to solve the mystery alongside him.
Reprinted by permission of publisher, Roaring Book Press. Copyright 2012
Freaky Fast Frankie Joe/ Lutricia Clifton
When twelve-year-old Frankie Joe's mother is sent to jail, he is uprooted from his home in Texas to live with the father he has never met, his father's wife, and his father's four "legitimate" sons in Illinois. Frankie Joe is miserable. Trying to adjust to his blended family proves too much to bear, so Frankie Joe hatches a plot to escape on his bike back home to Texas. For that he needs money, and so Frankie Joe's Freaky Fast Delivery Service is born. His deliveries win new friends, a place in the rural Illinois community, and a sense of achievement. But his planned escape is destroyed by a heartbreaking betrayal, and Frankie Joe needs all of his incredible resilience and the loving support of his new family to survive the devastating loss. Reprinted by permission of publisher, Holiday House. Copyright 2012
The Five Lives of Our Cat Zook/Joanne Rocklin
In this warmhearted middle-grade novel, Oona and her brother, Fred, love their cat Zook (short for Zucchini), but Zook is sick. As they conspire to break him out of the vet's office, convinced he can only get better at home with them, Oona tells Fred the story of Zook's previous lives, ranging in style from fairy tale to grand epic to slice of life. Each of Zook's lives has echoes in Oona's own family life, which is going through a transition she's not yet ready to face. Her father died two years ago, and her mother has started a relationship with a man named Dylan--whom Oona secretly calls "the villain." The truth about Dylan, and about Zook's medical condition, drives the drama in this loving family story. Reprinted by permission of publisher, Amulet Books. Copyright 2012
Prairie Evers/ Ellen Airgood
A sweet, spirited ten-year-old embarks upon the adventure of first friendship in this sparkling debut

Prairie Evers is finding that socialization isn't all it's cracked up to be. She's been homeschooled by her granny and has learned the most from traipsing through nature. But now she has to attend public school, and feels just like her chickens--cooped up and subject to the pecking order. School is a jolt for Prairie until she meets Ivy, her first true friend. But while raising chickens and the great outdoors have given Prairie wisdom and perspective, nothing has prepared her for the give and take of friendship. When Prairie finds out that Ivy's home may not be the best place for Ivy, Prairie must corral all her optimism and determination to hatch a plan to help. Fabulous writing and a narrator full of personality distinguish this lively middle-grade novel. Reprinted by permission of publisher, The Penguin Group. Copyright 2012
On the Road to Mr. Mineo's/ Barbara O'Connor
Summer days drift by slowly in Meadville, South Carolina--that is, until Sherman the one-legged pigeon flies into town and causes a ruckus. First Stella, who's been begging for a dog, spots him on top of a garage roof and decides she wants him for a pet. Then there's Ethel and Amos, an old couple who sees the pigeon in their barn keeping company with a little brown dog that barks all night. The pigeon lands smack in the middle of Mutt Raynard's head, but he's the town liar, so no one believes him. And when Stella's brother Levi and his scabby-kneed, germ-infested friends notice the pigeon, they join the chase, too. Meanwhile, across town, Mr. Mineo has one less homing pigeon than he used to...
Barbara O'Connor has delivered another ingeniously crafted story full of southern charm, kid-sized adventures, and quirky, unforgettable characters. Reprinted by permission of publisher, Nancy Paulsen Books. Copyright 2012
2014-2015 Master's list
Grades 6-8
Katerina's Wish/ Jeannie Mobley
Katerina has a dream. It's her papa's dream, too. Her family came to America to buy their own farm. But a year later, Papa is still working in the dangerous coal mine. Each day, the farm seems farther away.
Then Katerina is reminded of the carp that granted three wishes in an old folktale. When her younger sisters hear the story, they immediately make wishes. Trina doesn't believe in such silliness—but what is she to think when her sisters' wishes come true?
A farm is still too big to wish for. But, with the help of the neighbor's handsome son, Trina starts building her dream with hard work and good sense. Then tragedy strikes, and it seems that nothing Trina wishes for will ever come true again.
With warmth and gentle humor, Jeannie Mobley tells the story of a girl whose determination is as inspiring as her dreams. Reprinted by permission of publisher, Nancy Paulsen Books. Copyright 2012
The Dogs of Winter/ Bobbie Pyron
A small boy, a cruel city, and the incredible dogs who save him.
Based on a true story!

When Ivan's mother disappears, he's abandoned on the streets of Moscow, with little chance to make it through the harsh winter. But help comes in an unexpected form: Ivan is adopted by a pack of dogs, and the dogs quickly become more than just his street companions: They become his family. Soon Ivan, who used to love reading fairytales, is practically living in one, as he and his pack roam the city and countryside, using their wits to find food and shelter, dodging danger, begging for coins. But Ivan can't stay hidden from the world of people forever. When help is finally offered to him, will he be able to accept it? Will he even want to? A heart-pounding tale of survival and a moving look at what makes us human. Reprinted by permission of publisher, Nancy Paulsen Books. Copyright 2012
The False Prince/ Jennifer Nielsen
In this first book in a remarkable trilogy, an orphan is forced into a twisted game with deadly stakes.
Choose to lie...or choose to die.

In a discontent kingdom, civil war is brewing. To unify the divided people, Conner, a nobleman of the court, devises a cunning plan to find an impersonator of the king's long-lost son and install him as a puppet prince. Four orphans are recruited to compete for the role, including a defiant boy named Sage. Sage knows that Conner's motives are more than questionable, yet his life balances on a sword's point -- he must be chosen to play the prince or he will certainly be killed. But Sage's rivals have their own agendas as well.

As Sage moves from a rundown orphanage to Conner's sumptuous palace, layer upon layer of treachery and deceit unfold, until finally, a truth is revealed that, in the end, may very well prove more dangerous than all of the lies taken together.

An extraordinary adventure filled with danger and action, lies and deadly truths that will have readers clinging to the edge of their seats. Reprinted by permission of publisher, Nancy Paulsen Books. Copyright 2012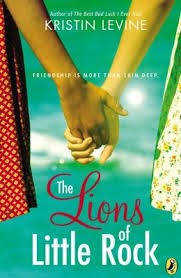 The Lions of Little Rock/ Kristin Levine
As twelve-year-old Marlee starts middle school in 1958 Little Rock, it feels like her whole world is falling apart. Until she meets Liz, the new girl at school. Liz is everything Marlee wishes she could be: she's brave, brash and always knows the right thing to say. But when Liz leaves school without even a good-bye, the rumor is that Liz was caught passing for white. Marlee decides that doesn't matter. She just wants her friend back. And to stay friends, Marlee and Liz are even willing to take on segregation and the dangers their friendship could bring to both their families. Reprinted by permission of publisher, Nancy Paulsen Books. Copyright 2012
One for the Murphys/ Lynda Mullaly Hunt
A moving debut novel about a foster child learning to open her heart to a family's love

Carley uses humor and street smarts to keep her emotional walls high and thick. But the day she becomes a foster child, and moves in with the Murphys, she's blindsided. This loving, bustling family shows Carley the stable family life she never thought existed, and she feels like an alien in their cookie-cutter-perfect household. Despite her resistance, the Murphys eventually show her what it feels like to belong--until her mother wants her back and Carley has to decide where and how to live. She's not really a Murphy, but the gifts they've given her have opened up a new future. Reprinted by permission of publisher, Nancy Paulsen Books. Copyright 2012
Buddy/ M.H. Herlong
A classic boy-and-dog tale in the tradition of Old Yeller

Tyrone "Li'l T" Roberts meets Buddy when his family's car accidentally hits the stray dog on their way to church. Buddy turns out to be the dog Li'l T's always wished for--until Hurricane Katrina comes to New Orleans and he must leave Buddy behind. After the storm, Li'l T and his father return home to find a community struggling to rebuild their lives--and Buddy gone. But Li'l T refuses to give up his quest to find his best friend. From the author of the BBYA Top Ten selection The Great Wide Sea comes a powerful story of hope, courage, and knowing when to let go.
Reprinted by permission of publisher, Nancy Paulsen Books. Copyright 2012
Bomb: The Race to Build-and Steal-the World's Most Dangerous Weapon/Steve Sheinkin
In December of 1938, a chemist in a German laboratory made a shocking discovery: When placed next to radioactive material, a Uranium atom split in two. That simple discovery launched a scientific race that spanned 3 continents. In Great Britain and the United States, Soviet spies worked their way into the scientific community; in Norway, a commando force slipped behind enemy lines to attack German heavy-water manufacturing; and deep in the desert, one brilliant group of scientists was hidden away at a remote site at Los Alamos. This is the story of the plotting, the risk-taking, the deceit, and genius that created the world's most formidable weapon. This is the story of the atomic bomb.
Reprinted by permission of publisher, Roaring Book Press. Copyright 2012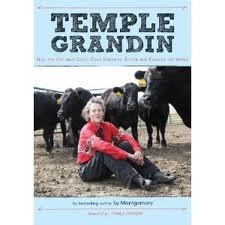 Temple Grandin/ Sy Montgomery
When Temple Grandin was born, her parents knew that she was different. Years later she was diagnosed with autism.
While Temple's doctor recommended a hospital, her mother believed in her. Temple went to school instead.
Today, Dr. Temple Grandin is a scientist and professor of animal science at Colorado State University. Her world-changing career revolutionized the livestock industry. As an advocate for autism, Temple uses her experience as an example of the unique contributions that autistic people can make.
This compelling biography complete with Temple's personal photos takes us inside her extraordinary mind and opens the door to a broader understanding of autism.
Reprinted by permission of publisher, Nancy Paulsen Books. Copyright 2012
The Shadow Collector's Apprentice/ Amy Gordon
Fans of Holly Horvath and Kate DiCamillo will love this warm, eccentric, and enchanting middle-grade novel.

Peculiar things are going on in the town of Medley over the summer of 1963, but it's hard for twelve-year-old Cully Pennyacre to figure out what it all means. His father has disappeared mysteriously, people don't seem like themselves, and his apprenticeship at Betty's Attic antique store gets stranger each day. The owner has a disturbing hobby of collecting people's shadows with a weird projectorlike machine and foul-smelling chemicals. He claims the process is harmless, but it leaves his victims listless and passive. Odd happenings become the norm as Cully, Batty's granddaughter Isabel, and Cully's best friend band together to get to the bottom of a secret black market in human shadows. Reprinted by permission of publisher, Nancy Paulsen Books. Copyright 2012
13 Hangmen/ Art Corriveau
So begins the story of Tony and his friends—five 13-year-old boys, all of whom are living in the same house in the same attic bedroom but at different times in history! None are ghosts, all are flesh and blood, and somehow all have come together in the attic room, visible only to one another. And all are somehow linked to a murder, a mystery, and a treasure.
Reprinted by permission of publisher, Nancy Paulsen Books. Copyright 2012
Ungifted/ Gordon Korman
From #1 New York Times bestselling author Gordon Korman comes a hilarious and heartfelt novel in which one middle-school troublemaker accidentally moves into the gifted and talented program—and changes everything. For fans of Louis Sachar and Jack Gantos, this funny and touching underdog story is a lovable and goofy adventure with robot fights, middle-school dances, live experiments, and statue-toppling pranks!
When Donovan Curtis pulls a major prank at his middle school, he thinks he's finally gone too far. But thanks to a mix-up by one of the administrators, instead of getting in trouble, Donovan is sent to the Academy of Scholastic Distinction, a special program for gifted and talented students.
Although it wasn't exactly what Donovan had intended, the ASD couldn't be a more perfectly unexpected hideout for someone like him. But as the students and teachers of ASD grow to realize that Donovan may not be good at math or science (or just about anything), he shows that his giftsmay be exactly what the ASD students never knew they needed.
Reprinted by permission of publisher, Nancy Paulsen Books. Copyright 2012