2017-2018 Master Lists
Grades 3-5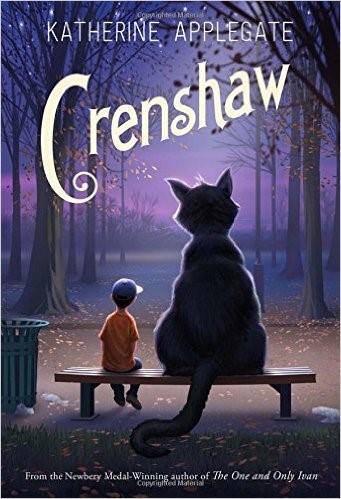 Crenshaw by Katherine Applegate
In her first novel since The One and Only Ivan, winner of the Newbery Medal, Katherine Applegate delivers an unforgettable and magical story about family, friendship, and resilience.
Jackson and his family have fallen on hard times. There's no more money for rent. And not much for food, either. His parents, his little sister, and their dog may have to live in their minivan. Again.
Crenshaw is a cat. He's large, he's outspoken, and he's imaginary. He has come back into Jackson's life to help him. But is an imaginary friend enough to save this family from losing everything?
Beloved author Katherine Applegate proves in unexpected ways that friends matter, whether real or imaginary. This title has Common Core connections.
Reprinted by permission of publisher, Feiwel & Friends. Copyright 2015
The Amazing Age of John Roy Lynch by Chris Barton
John Roy Lynch spent most of his childhood as a slave in Mississippi, but all of that changed with the Emancipation Proclamation. Suddenly people like John Roy could have paying jobs and attend school. While many people in the South were unhappy with the social change, John Roy thrived in the new era. He was appointed to serve as justice of the peace and was eventually elected into the United States Congress.
This biography, with its informative back matter and splendid illustrations, gives readers an in-depth look at the Reconstruction period through the life of one of the first African-American congressmen.
Reprinted by permission of publisher, Eerdmans Books for Young Readers. Copyright 2015
Circus Mirandus by Cassie Beasley
Even though his awful Great-Aunt Gertrudis doesn't approve, Micah believes in the stories his dying Grandpa Ephraim tells him of the magical Circus Mirandus: the invisible tiger guarding the gates, the beautiful flying birdwoman, and the magician more powerful than any other—the Man Who Bends Light. Finally, Grandpa Ephraim offers proof. The Circus is real. And the Lightbender owes Ephraim a miracle. With his friend Jenny Mendoza in tow, Micah sets out to find the Circus and the man he believes will save his grandfather.
The only problem is, the Lightbender doesn't want to keep his promise. And now it's up to Micah to get the miracle he came for.
Reprinted by permission of publisher, Puffin Books. Copyright 2015
George by Alex Gino
BE WHO YOU ARE.
When people look at George, they think they see a boy. But she knows she's not a boy. She knows she's a girl.
George thinks she'll have to keep this a secret forever. Then her teacher announces that their class play is going to be Charlotte's Web. George really, really, REALLY wants to play Charlotte. But the teacher says she can't even try out for the part . . . because she's a boy.
With the help of her best friend, Kelly, George comes up with a plan. Not just so she can be Charlotte -- but so everyone can know who she is, once and for all.
Reprinted by permission of publisher, Scholastic Press. Copyright 2015
Fish in a Tree by Lynda Mullaly Hunt
The author of the beloved One for the Murphys gives readers an emotionally-charged, uplifting novel that will speak to anyone who's ever thought there was something wrong with them because they didn't fit in.
"Everybody is smart in different ways. But if you judge a fish by its ability to climb a tree, it will live its life believing it is stupid."
Ally has been smart enough to fool a lot of smart people. Every time she lands in a new school, she is able to hide her inability to read by creating clever yet disruptive distractions. She is afraid to ask for help; after all, how can you cure dumb? However, her newest teacher Mr. Daniels sees the bright, creative kid underneath the trouble maker. With his help, Ally learns not to be so hard on herself and that dyslexia is nothing to be ashamed of. As her confidence grows, Ally feels free to be herself and the world starts opening up with possibilities. She discovers that there's a lot more to her—and to everyone—than a label, and that great minds don't always think alike.
Reprinted by permission of publisher, Scholastic. Copyright 2015
A Handful of Stars by Cynthia Lord
This powerful middle-grade novel from the Newbery Honor author of RULES explores a friendship between a small-town girl and the daughter of migrant workers.
When Lily's blind dog, Lucky, slips his collar and runs away across the wide-open blueberry barrens of eastern Maine, it's Salma Santiago who manages to catch him. Salma, the daughter of migrant workers, is in the small town with her family for the blueberry-picking season.
After their initial chance meeting, Salma and Lily bond over painting bee boxes for Lily's grandfather, and Salma's friendship transforms Lily's summer. But when Salma decides to run in the upcoming Blueberry Queen pageant, they'll have to face some tough truths about friendship and belonging. Should an outsider like Salma really participate in the pageant-and possibly win?
Set amongst the blueberry barrens and by the sea, this is a gorgeous new novel by Newbery Honor author Cynthia Lord that tackles themes of prejudice and friendship, loss and love.
Reprinted by permission of publisher, Scholastic Press. Copyright 2015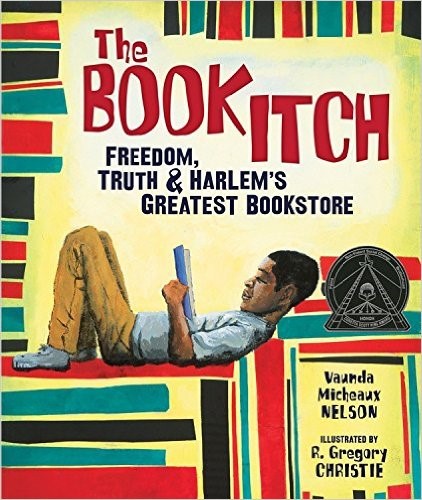 The Book Itch: Freedom, Truth, & Harlem's Greatest Bookstore by Vaunda Micheaux Nelson
In the 1930s, Lewis's dad, Lewis Michaux Sr., had an itch he needed to scratch a book itch. How to scratch it? He started a bookstore in Harlem and named it the National Memorial African Bookstore.
And as far as Lewis Michaux Jr. could tell, his father's bookstore was one of a kind. People from all over came to visit the store, even famous people Muhammad Ali and Malcolm X, to name a few. In his father's bookstore people bought and read books, and they also learned from each other. People swapped and traded ideas and talked about how things could change. They came together here all because of his father's book itch. Read the story of how Lewis Michaux Sr. and his bookstore fostered new ideas and helped people stand up for what they believed in.
Reprinted by permission of publisher, Carolrhoda Books. Copyright 2015
Lucky Strike by Bobbie Pyron
He'd like to win a prize, get picked first, call a coin toss right, even! But his best friend, Genesis Beam (aka Gen), believes in science and logic, and she doesn't think for one second that there's such a thing as luck, good or bad. She doesn't care what names the other kids call them. She cares about being right, about saving the turtles of Paradise Beach, and she cares about Nate.
Then, on his birthday, at the Goofy Golf mini-golf course, Nate is struck by lightning -- and survives! Suddenly baseballs are drawn to his bat -- popular kids want HIM on their side. It seems the whole town of Paradise Beach thinks Nate has the magic touch.
But is there room for Gen in Nate's lucky new world?
Lucky Strike tells the unforgettable story of two vulnerable outsiders and what luck is really all about.
Reprinted by permission of publisher, Scholastic Inc. Copyright 2015
Poet: The Remarkable Story of George Moses Horton by Don Tate
In the nineteenth century, North Carolina slave George Moses Horton taught himself to read and earned money to purchase his time though not his freedom. Horton became the first African American to be published in the South, protesting slavery in the form of verse.
Reprinted by permission of publisher, Peachtree Publishers. Copyright 2015
Funny Bones: Posada and His Day of the Dead Calaveras by Duncan Tonatiuh
Funny Bones tells the story of how the amusing calaveras—skeletons performing various every day or festive activities—came to be. They are the creation of Mexican artist José Guadalupe (Lupe) Posada (1852–1913). In a country that was not known for freedom of speech, he first drew political cartoons, much to the amusement of the local population but not the politicians. He continued to draw cartoons throughout much of his life, but he is best known today for his calavera drawings. They have become synonymous with Mexico's Día de los Muertos (Day of the Dead) festival. Juxtaposing his own art with that of Lupe's, author Duncan Tonatiuh brings to light the remarkable life and work of a man whose art is beloved by many but whose name has remained in obscurity.
Reprinted by permission of publisher, Abrams. Copyright 2015
2017-2018 Master's list
Grades 6-8
The War That Saved My Life by Kimberly Brubaker Bradley
Nine-year-old Ada has never left her one-room apartment. Her mother is too humiliated by Ada's twisted foot to let her outside. So when her little brother Jamie is shipped out of London to escape the war, Ada doesn't waste a minute—she sneaks out to join him.
So begins a new adventure of Ada, and for Susan Smith, the woman who is forced to take the two kids in. As Ada teaches herself to ride a pony, learns to read, and watches for German spies, she begins to trust Susan—and Susan begins to love Ada and Jamie. But in the end, will their bond be enough to hold them together through wartime? Or will Ada and her brother fall back into the cruel hands of their mother?
Reprinted by permission of publisher, Puffin Books. Copyright 2015
Drowned City: Hurricane Katrina and New Orleans by Don Brown
On August 29, 2005, Hurricane Katrina's monstrous winds and surging water overwhelmed the protective levees around low-lying New Orleans, Louisiana. Eighty percent of the city flooded, in some places under twenty feet of water. Property damages across the Gulf Coast topped $100 billion. One thousand eight hundred and thirty-three people lost their lives. The riveting tale of this historic storm and the drowning of an American city is one of selflessness, heroism, and courage—and also of incompetence, racism, and criminality.
Reprinted by permission of publisher, HMH Books for Young Readers. Copyright 2015
Stella by Starlight by Sharon M. Draper
When the Ku Klux Klan's unwelcome reappearance rattles Stella's segregated southern town, bravery battles prejudice in this New York Times bestselling Depression-era "novel that soars" (The New York Times Book Review) that School Library Journal called "storytelling at its finest" in a starred review.
Stella lives in the segregated South—in Bumblebee, North Carolina, to be exact about it. Some stores she can go into. Some stores she can't. Some folks are right pleasant. Others are a lot less so. To Stella, it sort of evens out, and heck, the Klan hasn't bothered them for years. But one late night, later than she should ever be up, much less wandering around outside, Stella and her little brother see something they're never supposed to see, something that is the first flicker of change to come, unwelcome change by any stretch of the imagination. As Stella's community—her world—is upended, she decides to fight fire with fire. And she learns that ashes don't necessarily signify an end.
Reprinted by permission of publisher, Atheneum/Caitlyn Dlouhy Books. Copyright 2015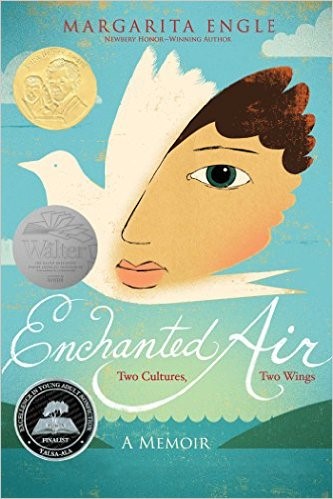 Enchanted Air: Two Cultures, Two Wings: A Memoir by Margarita Engle
In this poetic memoir, which won the Pura Belpré Author Award, was a YALSA Nonfiction Finalist, and was named a Walter Dean Myers Award Honoree, acclaimed author Margarita Engle tells of growing up as a child of two cultures during the Cold War.
Margarita is a girl from two worlds. Her heart lies in Cuba, her mother's tropical island country, a place so lush with vibrant life that it seems like a fairy tale kingdom. But most of the time she lives in Los Angeles, lonely in the noisy city and dreaming of the summers when she can take a plane through the enchanted air to her beloved island. Words and images are her constant companions, friendly and comforting when the children at school are not.
Then a revolution breaks out in Cuba. Margarita fears for her far-away family. When the hostility between Cuba and the United States erupts at the Bay of Pigs Invasion, Margarita's worlds collide in the worst way possible. How can the two countries she loves hate each other so much? And will she ever get to visit her beautiful island again?
Reprinted by permission of publisher, Atheneum Books for Young Readers. Copyright 2015
Took: A Ghost Story by Mary Downing Hahn
Thirteen-year-old Daniel Anderson doesn't believe Brody Mason's crazy stories about the ghost witch who lives up on Brewster's Hill with Bloody Bones, her man-eating razorback hog. He figures Brody's probably just trying to scare him since he's the new kid . . . a "stuck-up snot" from Connecticut. But Daniel's seven-year-old sister Erica has become more and more withdrawn, talking to her lookalike doll. When she disappears into the woods one day, he knows something is terribly wrong. Did the witch strike? Has Erica been "took"?
Reprinted by permission of publisher, HMH Books for Young Readers. Copyright 2015
Roller Girl by Victoria Jamieson
For most of her twelve years, Astrid has done everything with her best friend Nicole. But after Astrid falls in love with roller derby and signs up for derby camp, Nicole decides to go to dance camp instead. And so begins the most difficult summer of Astrid's life as she struggles to keep up with the older girls at camp, hang on to the friend she feels slipping away, and cautiously embark on a new friendship. As the end of summer nears and her first roller derby bout (and junior high!) draws closer, Astrid realizes that maybe she is strong enough to handle the bout, a lost friendship, and middle school… in short, strong enough to be a roller girl.
In this graphic novel debut that earned a Newbery Honor and five starred reviews, real-life derby girl Victoria Jamieson has created an inspiring coming-of-age story about friendship, perseverance, and girl power!
Reprinted by permission of publisher, Dial Books. Copyright 2015
In the Footsteps of Crazy Horse by Joseph Marshall
Jimmy McClean is a Lakota boy—though you wouldn't guess it by his name: his father is part white and part Lakota, and his mother is Lakota. When he embarks on a journey with his grandfather, Nyles High Eagle, he learns more and more about his Lakota heritage—in particular, the story of Crazy Horse, one of the most important figures in Lakota and American history. Drawing references and inspiration from the oral stories of the Lakota tradition, celebrated author Joseph Marshall III juxtaposes the contemporary story of Jimmy with an insider's perspective on the life of Tasunke Witko, better known as Crazy Horse (c. 1840–1877). The book follows the heroic deeds of the Lakota leader who took up arms against the US federal government to fight against encroachments on the territories and way of life of the Lakota people, including leading a war party to victory at the Battle of the Little Bighorn. Along with Sitting Bull, Crazy Horse was the last of the Lakota to surrender his people to the US army. Through his grandfather's tales about the famous warrior, Jimmy learns more about his Lakota heritage and, ultimately, himself.
Reprinted by permission of publisher, Scholastic. Copyright 2015
The Nest by Kenneth Oppel
Steve just wants to save his baby brother—but what will he lose in the bargain? Kenneth Oppel's (Silverwing, The Boundless) haunting gothic tale for fans of Coraline, is one of the most acclaimed books of the year, receiving six starred reviews. Illustrations from Caldecott Medalist Jon Klassen.
For some kids summer is a sun-soaked season of fun. But for Steve, it's just another season of worries. Worries about his sick newborn baby brother who is fighting to survive, worries about his parents who are struggling to cope, even worries about the wasp's nest looming ominously from the eaves. So when a mysterious wasp queen invades his dreams, offering to "fix" the baby, Steve thinks his prayers have been answered. All he has to do is say "Yes." But "yes" is a powerful word. It is also a dangerous one. And once it is uttered, can it be taken back?
Reprinted by permission of publisher, Simon & Schuster Books. Copyright 2015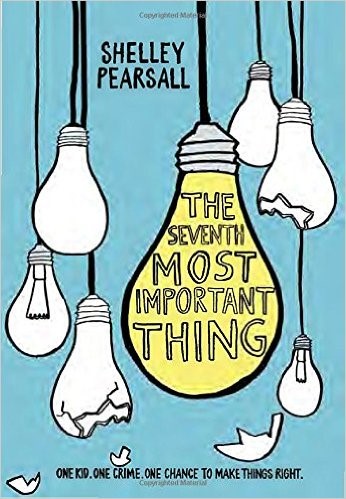 The Seventh Most Important Thing by Shelley Pearsall
Arthur T. Owens grabbed a brick and hurled it at the trash picker. Arthur had his reasons, and the brick hit the Junk Man in the arm, not the head. But none of that matters to the judge—he is ready to send Arthur to juvie forever. Amazingly, it's the Junk Man himself who offers an alternative: 120 hours of community service . . . working for him.
Arthur is given a rickety shopping cart and a list of the Seven Most Important Things: glass bottles, foil, cardboard, pieces of wood, lightbulbs, coffee cans, and mirrors. He can't believe it—is he really supposed to rummage through people's trash? But it isn't long before Arthur realizes there's more to the Junk Man than meets the eye, and the "trash" he's collecting is being transformed into something more precious than anyone could imagine.
Reprinted by permission of publisher, Yearling. Copyright 2015
Echo: A Novel by Pam Munoz Ryan
Lost and alone in a forbidden forest, Otto meets three mysterious sisters and suddenly finds himself entwined in a puzzling quest involving a prophecy, a promise, and a harmonica.
Decades later, Friedrich in Germany, Mike in Pennsylvania, and Ivy in California each, in turn, become interwoven when the very same harmonica lands in their lives. All the children face daunting challenges: rescuing a father, protecting a brother, holding a family together. And ultimately, pulled by the invisible thread of destiny, their suspenseful solo stories converge in an orchestral crescendo.
Richly imagined and masterfully crafted, this impassioned, uplifting, and virtuosic tour de force will resound in your heart long after the last note has been struck.
Reprinted by permission of publisher, Scholastic Press. Copyright 2015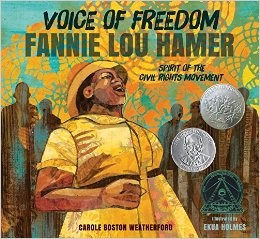 Voice of Freedom: Fannie Lou Hamer: The Spirit of the Civil Rights Movement by Carole Boston Weatherford
Despite fierce prejudice and abuse, even being beaten to within an inch of her life, Fannie Lou Hamer was a champion of civil rights from the 1950s until her death in 1977. Integral to the Freedom Summer of 1964, Ms. Hamer gave a speech at the Democratic National Convention that, despite President Johnson's interference, aired on national TV news and spurred the nation to support the Freedom Democrats. Featuring vibrant mixed-media art full of intricate detail, Voice of Freedom celebrates Fannie Lou Hamer's life and legacy with a message of hope, determination, and strength.
Reprinted by permission of publisher, Candlewick. Copyright 2015