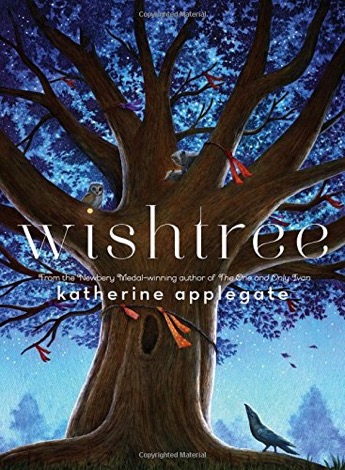 Wishtree by Katherine Applegate
Trees can't tell jokes, but they can certainly tell stories. . . .
Red is an oak tree who is many rings old. Red is the neighborhood "wishtree"―people write their wishes on pieces of cloth and tie them to Red's branches. Along with a crow named Bongo and other animals who seek refuge in Red's hollows, this wishtree watches over the neighborhood.
You might say Red has seen it all.
Until a new family moves in. Not everyone is welcoming, and Red's experience as a wishtree is more important than ever.
Funny, deep, warm, and nuanced, this is Katherine Applegate at her very best―writing from the heart, and from a completely unexpected point of view.
This book has Common Core connections.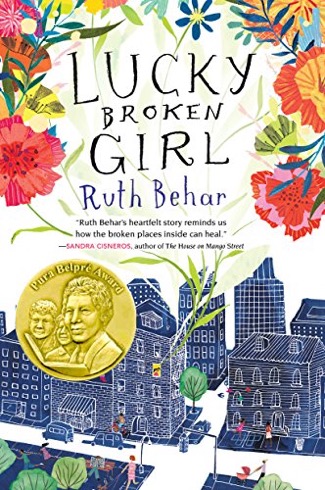 Lucky Broken Girl By Ruth Behar
In this unforgettable multicultural coming-of-age narrative—based on the author's childhood in the 1960s—a young Cuban-Jewish immigrant girl is adjusting to her new life in New York City when her American dream is suddenly derailed. Ruthie's plight will intrigue readers, and her powerful story of strength and resilience, full of color, light, and poignancy, will stay with them for a long time.

Ruthie Mizrahi and her family recently emigrated from Castro's Cuba to New York City. Just when she's finally beginning to gain confidence in her mastery of English—and enjoying her reign as her neighborhood's hopscotch queen—a horrific car accident leaves her in a body cast and confined her to her bed for a long recovery. As Ruthie's world shrinks because of her inability to move, her powers of observation and her heart grow larger and she comes to understand how fragile life is, how vulnerable we all are as human beings, and how friends, neighbors, and the power of the arts can sweeten even the worst of times.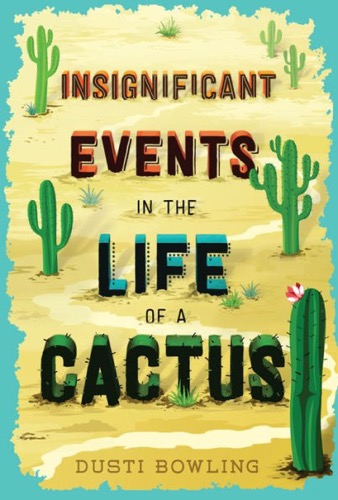 Insignificant events in the life of a cactus By Dusti Bowling
Aven Green loves to tell people that she lost her arms in an alligator wrestling match, or a wildfire in Tanzania, but the truth is she was born without them. And when her parents take a job running Stagecoach Pass, a rundown western theme park in Arizona, Aven moves with them across the country knowing that she'll have to answer the question over and over again.

Her new life takes an unexpected turn when she bonds with Connor, a classmate who also feels isolated because of his own disability, and they discover a room at Stagecoach Pass that holds bigger secrets than Aven ever could have imagined. It's hard to solve a mystery, help a friend, and face your worst fears. But Aven's about to discover she can do it all . . . even without arms.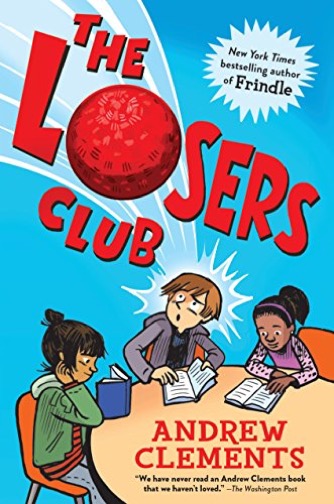 The loser's club by Andrew clements
Sixth grader Alec can't put a good book down.

So when Principal Vance lays down the law—pay attention in class, or else—Alec takes action. He can't lose all his reading time, so he starts a club. A club he intends to be the only member of. After all, reading isn't a team sport, and no one would want to join something called the Losers Club, right? But as more and more kids find their way to Alec's club—including his ex-friend turned bully and the girl Alec is maybe starting to like—Alec notices something. Real life might be messier than his favorite books, but it's just as interesting.

With The Losers Club, Andrew Clements brings us a new school story that's a love letter to books and to reading and that reminds us that sometimes the best stories are the ones that happen off the page—our own!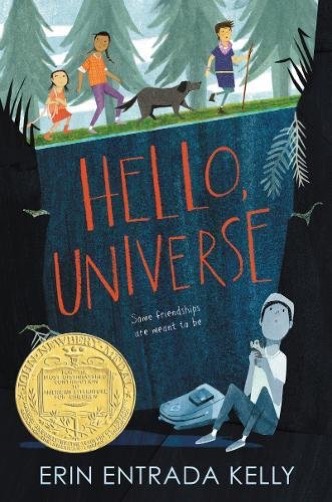 Hello Universe By Erin entrada kelly
Erin Entrada Kelly's Hello, Universe is a funny and poignant neighborhood story about unexpected friendships.
Told from four intertwining points of view—two boys and two girls—the novel celebrates bravery, being different, and finding your inner bayani (hero). "Readers will be instantly engrossed in this relatable neighborhood adventure and its eclectic cast of misfits."—Booklist
In one day, four lives weave together in unexpected ways. Virgil Salinas is shy and kindhearted and feels out of place in his crazy-about-sports family. Valencia Somerset, who is deaf, is smart, brave, and secretly lonely, and she loves everything about nature. Kaori Tanaka is a self-proclaimed psychic, whose little sister, Gen, is always following her around. And Chet Bullens wishes the weird kids would just stop being so different so he can concentrate on basketball.
They aren't friends, at least not until Chet pulls a prank that traps Virgil and his pet guinea pig at the bottom of a well. This disaster leads Kaori, Gen, and Valencia on an epic quest to find missing Virgil. Through luck, smarts, bravery, and a little help from the universe, a rescue is performed, a bully is put in his place, and friendship blooms.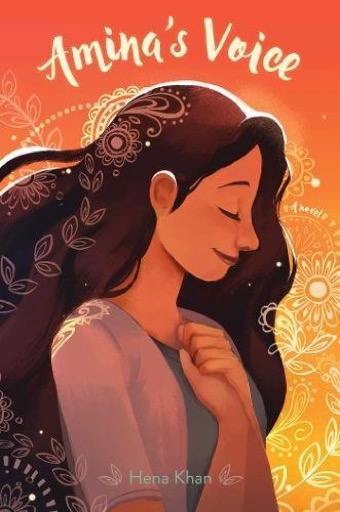 Amina's voice by hena khan
A Pakistani-American Muslim girl struggles to stay true to her family's vibrant culture while simultaneously blending in at school after tragedy strikes her community in this sweet and moving middle grade novel from the award-winning author of It's Ramadan, Curious George and Golden Domes and Silver Lanterns.

Amina has never been comfortable in the spotlight. She is happy just hanging out with her best friend, Soojin. Except now that she's in middle school everything feels different. Soojin is suddenly hanging out with Emily, one of the "cool" girls in the class, and even talking about changing her name to something more "American." Does Amina need to start changing too? Or hiding who she is to fit in? While Amina grapples with these questions, she is devastated when her local mosque is vandalized.

Amina's Voice brings to life the joys and challenges of a young Pakistani American and highlights the many ways in which one girl's voice can help bring a diverse community together to love and support each other.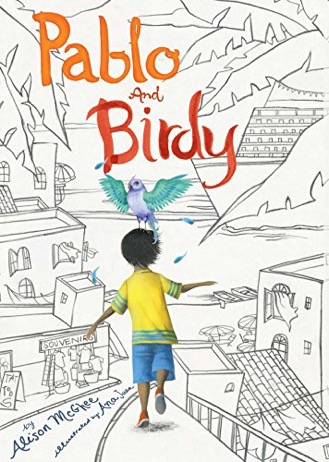 pablo and birdy by alison mcghee
The seaside town of Isla has many stories, the most notable being the legend of the Seafaring Parrot. Locals claim that the Seafarer remembers every sound, every whisper, cry, laugh, or snort ever uttered. But, though there have been rumored Seafarer sightings, no one has actually seen the bird before. Other stories surround a boy named Pablo, who had washed up on shore in a blow-up swimming pool as an infant with only a lavender parrot as a companion. Now, on the eve of his tenth birthday, the stories are repeated.

"At first I thought it was a huge fish," Emmanuel, the man who found and took Pablo in, says. Pierre, the baker's guess was a good one: Perhaps Pablo has come from an undiscovered country, one unknown to the rest of the world. Maybe the inhabitants there lived in tree houses, or underground. Or maybe he's a pirate baby. But Pablo wants the truth, and the only one who might know it is Birdy, his parrot. After all, she was there, holding onto the raft. But unlike most birds who live in Isla, Birdy can neither talk or fly. Or, at least, she never has. Until…one day, when strong winds begin to blow—winds similar to the ones that brought Pablo to shore—Birdy begins to mutter. Could Birdy be a Seafaring parrot? If she is, then she will be able to tell Pablo the true story of where he came from—of who tied him so lovingly and safely to that raft? But, if she is, that also means the second part of the Seafarer myth is true…that Seafaring Parrots will, eventually, fly away.

As Pablo is buzzing with questions, hopes, and fears, an old saying echoes in his mind: winds of change mean fortune lost or fortune gained. And while the winds rise in Isla, Pablo holds tight to Birdy. Would losing his companion, his dearest link to his past, be that loss?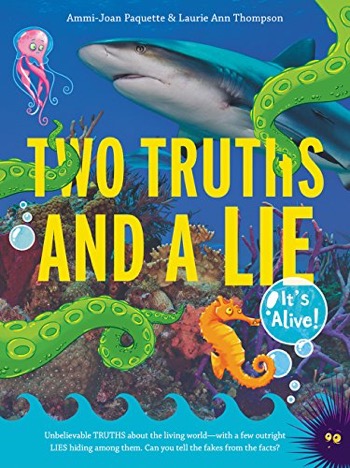 two truths and a lie by ammi-joan paquette & laurie ann thompson
Two Truths and a Lie is the first book in a fascinating new series that presents some of the most crazy-but-true stories about the living world as well as a handful of stories that are too crazy to be true—and asks readers to separate facts from fakes!
Did you know that there is a fungus that can control the mind of an ant and make it do its bidding? Would you believe there is such a thing as a corpse flower—a ten-foot-tall plant with a blossom that smells like a zombie? How about a species of octopus that doesn't live in water but rather lurks in trees in the Pacific Northwest?
Every story in this book is strange and astounding. But not all of them are real. Just like the old game in this book's title, two out of every three stories are completely true and one is an outright lie. Can you guess which? It's not going to be easy. Some false stories are based on truth, and some of the true stories are just plain unbelievable. And they're all accompanied by dozens of photos, maps, and illustrations. Amaze yourself and trick your friends as you sort out the fakes from the facts!
Acclaimed authors Ammi-Joan Paquette and Laurie Ann Thompson have teamed up to create a series of sneaky stories about the natural world designed to amaze, disgust, and occasionally bamboozle you.
Princess cora and the crocodile by laura amy schlitz
Princess Cora is sick of boring lessons. She's sick of running in circles around the dungeon gym. She's sick, sick, sick of taking three baths a day. And her parents won't let her have a dog. But when she writes to her fairy godmother for help, she doesn't expect that help to come in the form of a crocodile—a crocodile who does not behave properly. With perfectly paced dry comedy, children's book luminaries Laura Amy Schlitz and Brian Floca send Princess Cora on a delightful outdoor adventure — climbing trees! getting dirty! having fun! — while her alter ego wreaks utter havoc inside the castle, obliging one pair of royal helicopter parents to reconsider their ways.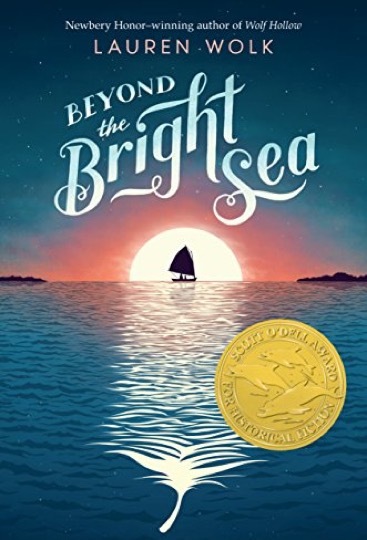 beyond the bright sea by lauren wolk
Twelve-year-old Crow has lived her entire life on a tiny, isolated piece of the starkly beautiful Elizabeth Islands in Massachusetts. Abandoned and set adrift in a small boat when she was just hours old, Crow's only companions are Osh, the man who rescued and raised her, and Miss Maggie, their fierce and affectionate neighbor across the sandbar.

Crow has always been curious about the world around her, but it isn't until the night a mysterious fire appears across the water that the unspoken question of her own history forms in her heart. Soon, an unstoppable chain of events is triggered, leading Crow down a path of discovery and danger.

Vivid and heart-wrenching, Lauren Wolk's Beyond the Bright Sea is a gorgeously crafted and tensely paced tale that explores questions of identity, belonging, and the true meaning of family.
2019-2020 Master's list
Grades 6-8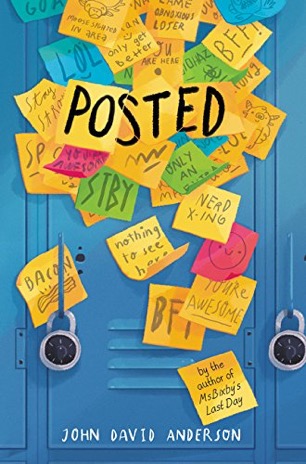 posted by John David Anderson
In middle school, words aren't just words. They can be weapons. They can be gifts. The right words can win you friends or make you enemies. They can come back to haunt you. Sometimes they can change things forever.
When cell phones are banned at Branton Middle School, Frost and his friends Deedee, Wolf, and Bench come up with a new way to communicate: leaving sticky notes for each other all around the school. It catches on, and soon all the kids in school are leaving notes—though for every kind and friendly one, there is a cutting and cruel one as well.
In the middle of this, a new girl named Rose arrives at school and sits at Frost's lunch table. Rose is not like anyone else at Branton Middle School, and it's clear that the close circle of friends Frost has made for himself won't easily hold another. As the sticky-note war escalates, and the pressure to choose sides mounts, Frost soon realizes that after this year, nothing will ever be the same.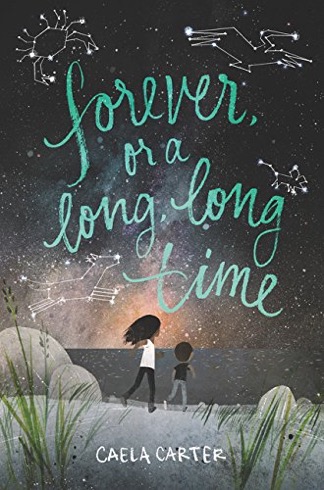 Forever, or a long, long time by caela carter
From rising star Caela Carter, author of My Life with the Liars, comes a captivating and heartfelt story about siblings who learn that love can never be divided, only multiplied.

Flora and her brother, Julian, don't believe they were born. They've lived in so many foster homes, they can't remember where they came from. And even now that they've been adopted, Flora still struggles to believe that they've found their forever home.

So along with their new mother, Flora and Julian begin a journey to go back and discover their past—for only then can they really begin to build their future.
See you in the cosmos by jack cheng
11-year-old Alex Petroski loves space and rockets, his mom, his brother, and his dog Carl Sagan—named for his hero, the real-life astronomer. All he wants is to launch his golden iPod into space the way Carl Sagan (the man, not the dog) launched his Golden Record on the Voyager spacecraft in 1977. From Colorado to New Mexico, Las Vegas to L.A., Alex records a journey on his iPod to show other lifeforms what life on earth, his earth, is like. But his destination keeps changing. And the funny, lost, remarkable people he meets along the way can only partially prepare him for the secrets he'll uncover—from the truth about his long-dead dad to the fact that, for a kid with a troubled mom and a mostly not-around brother, he has way more family than he ever knew.

Jack Cheng's debut is full of joy, optimism, determination, and unbelievable heart. To read the first page is to fall in love with Alex and his view of our big, beautiful, complicated world. To read the last is to know he and his story will stay with you a long, long time.
Refugee by alan gratz
JOSEF is a Jewish boy living in 1930s Nazi Germany. With the threat of concentration camps looming, he and his family board a ship bound for the other side of the world . . .

ISABEL is a Cuban girl in 1994. With riots and unrest plaguing her country, she and her family set out on a raft, hoping to find safety in America . . .

MAHMOUD is a Syrian boy in 2015. With his homeland torn apart by violence and destruction, he and his family begin a long trek toward Europe . . .

All three kids go on harrowing journeys in search of refuge. All will face unimaginable dangers -- from drownings to bombings to betrayals. But there is always the hope of tomorrow. And although Josef, Isabel, and Mahmoud are separated by continents and decades, shocking connections will tie their stories together in the end.

This action-packed novel tackles topics both timely and timeless: courage, survival, and the quest for home.
Saving marty by paul griffin
Eleven-year-old Lorenzo Ventura knows heroes are rare—like his father, who died in the war, or his friend Paloma Lee, who fearlessly pursues her dream of being a famous musician. Renzo would never describe himself as a hero, but his chance comes when he adopts Marty, a runt piglet.

Marty is extraordinary—he thinks he's a dog and acts like one too—and his bond with Renzo is truly one of a kind. At first, the family farm seems like the perfect home for Marty, but as he approaches 350 pounds, it becomes harder for Renzo to convince his mom that a giant pig makes a good pet. So when Marty causes a dangerous (and expensive) accident, Renzo knows Marty's time is up. He'd do anything and everything for his best friend, but will everything be enough to save Marty?

Paul Griffin masterfully melds the heartrending and the hopeful in this unforgettable story about the power of friendship . . . and the unsung heroes all around us.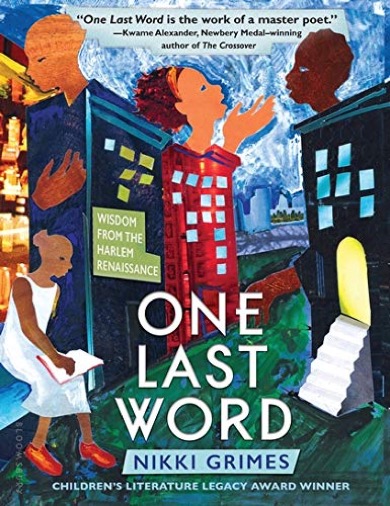 One last word: wisdom from the harlem renaissance by nikki grimes
From the New York Times bestselling and Coretta Scott King award-winning author Nikki Grimes comes an emotional, special new collection of poetry inspired by the Harlem Renaissance--paired with full-color, original art from today's most exciting African-American illustrators.
Inspired by the writers of the Harlem Renaissance, bestselling author Nikki Grimes uses "The Golden Shovel" poetic method to create wholly original poems based on the works of master poets like Langston Hughes, Georgia Douglas Johnson, Jean Toomer, and others who enriched history during this era.
Each poem is paired with one-of-a-kind art from today's most exciting African American illustrators--including Pat Cummings, Brian Pinkney, Sean Qualls, James Ransome, Javaka Steptoe, and many more--to create an emotional and thought-provoking book with timely themes for today's readers.
A foreword, an introduction to the history of the Harlem Renaissance, author's note, poet biographies, and index makes this not only a book to cherish, but a wonderful resource and reference as well.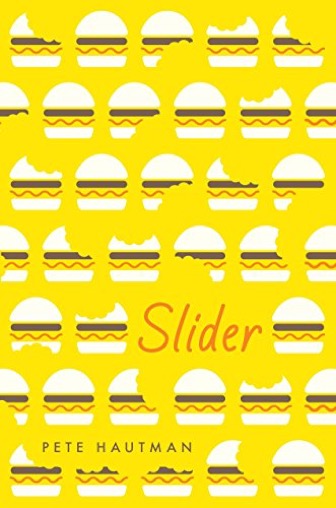 Slider by pete hautman
David can eat an entire sixteen-inch pepperoni pizza in four minutes and thirty-six seconds. Not bad. But he knows he can do better. In fact, he'll have to do better: he's going to compete in the Super Pigorino Bowl, the world's greatest pizza-eating contest, and he has to win it, because he borrowed his mom's credit card and accidentally spent $2,000 on it. So he really needs that prize money. Like, yesterday. As if training to be a competitive eater weren't enough, he's also got to keep an eye on his little brother, Mal (who, if the family believed in labels, would be labeled autistic, but they don't, so they just label him Mal). And don't even get started on the new weirdness going on between his two best friends, Cyn and HeyMan. Master talent Pete Hautman has cooked up a rich narrative shot through with equal parts humor and tenderness, and the result is a middle-grade novel too delicious to put down.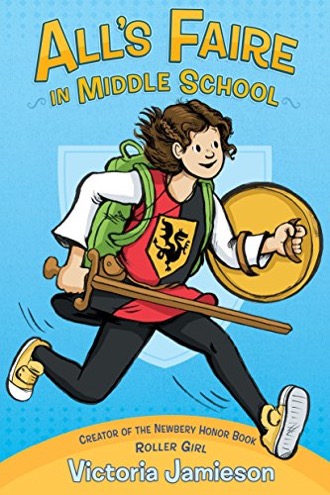 All's Faire in middle school by victoria jamieson
Eleven-year-old Imogene (Impy) has grown up with two parents working at the Renaissance Faire, and she's eager to begin her own training as a squire. First, though, she'll need to prove her bravery. Luckily Impy has just the quest in mind—she'll go to public school after a life of being homeschooled! But it's not easy to act like a noble knight-in-training in middle school. Impy falls in with a group of girls who seem really nice (until they don't) and starts to be embarrassed of her thrift shop apparel, her family's unusual lifestyle, and their small, messy apartment. Impy has always thought of herself as a heroic knight, but when she does something really mean in order to fit in, she begins to wonder whether she might be more of a dragon after all.

As she did in Roller Girl, Victoria Jamieson perfectly—and authentically—captures the bittersweetness of middle school life with humor, warmth, and understanding.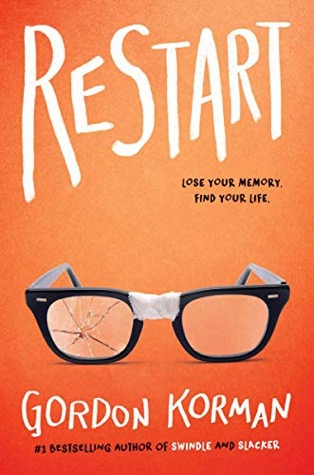 Restart by gordon korman
Chase's memory just went out the window.

Chase doesn't remember falling off the roof. He doesn't remember hitting his head. He doesn't, in fact, remember anything. He wakes up in a hospital room and suddenly has to learn his whole life all over again . . . starting with his own name.

He knows he's Chase. But who is Chase? When he gets back to school, he sees that different kids have very different reactions to his return.

Some kids treat him like a hero. Some kids are clearly afraid of him.

One girl in particular is so angry with him that she pours her frozen yogurt on his head the first chance she gets.

Pretty soon, it's not only a question of who Chase is--it's a question of who he was . . . and who he's going to be.

Orphan island by laurel snyder
On the island, everything is perfect. The sun rises in a sky filled with dancing shapes; the wind, water, and trees shelter and protect those who live there; when the nine children go to sleep in their cabins, it is with full stomachs and joy in their hearts.
And only one thing ever changes: on that day, each year, when a boat appears from the mist upon the ocean carrying one young child to join them—and taking the eldest one away, never to be seen again.
Today's Changing is no different. The boat arrives, taking away Jinny's best friend, Deen, replacing him with a new little girl named Ess, and leaving Jinny as the new Elder. Jinny knows her responsibility now—to teach Ess everything she needs to know about the island, to keep things as they've always been.
But will she be ready for the inevitable day when the boat will come back—and take her away forever from the only home she's known?