2018-2019 Master lists
Grades 3-5
Step Right Up: How Doc and Jim Key Taught the World about Kindness by Donna Janell Bowman
William "Doc" Key had a special way with animals. Growing up an enslaved child in Tennessee, Doc was sent to plantations around the state to care for sick and wounded animals. When the Civil War ended and Doc was freed, he began to dream of breeding a winning racehorse. But those dreams were dashed when his colt was born weak and sickly.Although many people would have euthanized the colt, Doc nursed him back to health and named him Jim.
Noticing a level of curiosity and eagerness in the horse, Doc began teaching Beautiful Jim Key first to recognize letters, then to read, write, add, subtract, and more. Doc soon took his talented horse on the road, spreading a message of patience and kindness, over cruelty, to all animals.
Reprinted by permission of publisher, Lee & Low Books INC. Copyright 2016
Giant Squid by Candace Fleming
The giant squid is one of the most elusive creatures in the world. As large as whales, they hide beyond reach deep within the sea, forcing scientists to piece together their story from those clues they leave behind.
An injured whale's ring-shaped scars indicate an encounter with a giant squid. A piece of beak broken off in the whale's belly; a flash of ink dispersed as a blinding defense to allow the squid to escape-- these fragments of proof were all we had . . . until a giant squid was finally filmed in its natural habitat only two years ago.
Reprinted by permission of publisher, Roaring Brook Press. Copyright 2016
When Green Becomes Tomatoes: Poems for All Seasons By Julie Fogliano
Flowers blooming in sheets of snow make way for happy frogs dancing in the rain. Summer swims move over for autumn sweaters until the snow comes back again. In Julie Fogliano's skilled hand and illustrated by Julie Morstad's charming pictures, the seasons come to life in this gorgeous and comprehensive book of poetry.
Reprinted by permission of publisher, Roaring Brook Press. Copyright 2016
Full of Beans by Jennifer L. Holm
Grown-ups lie. That's one truth Beans knows for sure. He and his gang know how to spot a whopper a mile away, because they are the savviest bunch of barefoot conchs (that means "locals") in all of Key West. Not that Beans really minds; it's 1934, the middle of the Great Depression. With no jobs on the island, and no money anywhere, who can really blame the grown-ups for telling a few tales? Besides, Beans isn't anyone's fool. In fact, he has plans. Big plans. And the consequences might surprise even Beans himself.
Reprinted by permission of publisher, Random House Children's Books. Copyright 2016
Animals by the Numbers: A Book of Infographics by Steve Jenkins
How many species are there across the globe? How much do all of the insects in the world collectively weigh? How far can animals travel?
Jenkins layers his signature cut-paper illustrations alongside computer graphics and a text that is teeming with fresh, unexpected, and accurate zoological information ready for readers to easily devour. The level of scientific research paired with Jenkins' creativity and accessible infographics is unmatched and sure to wow fans old and new.
Reprinted by permission of publisher, Huffington Mifflin Harcourt Publishing Company. Copyright 2016
I Dissent: Ruth Bader Ginsburg Makes Her Mark by Debbie Levy
Get to know celebrated Supreme Court justice Ruth Bader Ginsburg—in the first picture book about her life—as she proves that disagreeing does not make you disagreeable!
Supreme Court justice Ruth Bader Ginsburg has spent a lifetime disagreeing: disagreeing with inequality, arguing against unfair treatment, and standing up for what's right for people everywhere. This biographical picture book about the Notorious RBG, tells the justice's story through the lens of her many famous dissents, or disagreements.
Reprinted by permission of publisher, Simon and Schuster. Copyright 2016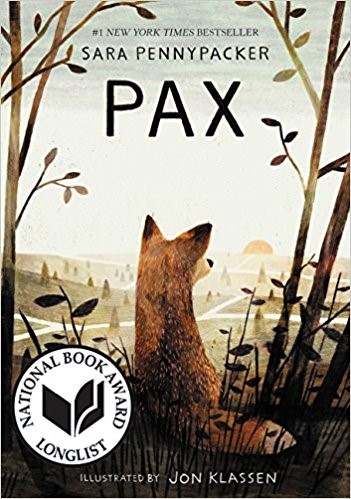 Pax by Sara Pennypacker
Pax and Peter have been inseparable ever since Peter rescued him as a kit. But one day, the unimaginable happens: Peter's dad enlists in the military and makes him return the fox to the wild.
At his grandfather's house, three hundred miles away from home, Peter knows he isn't where he should be—with Pax. He strikes out on his own despite the encroaching war, spurred by love, loyalty, and grief, to be reunited with his fox.
Reprinted by permission of publisher, HarperCollins Publishers. Copyright 2016
As Brave As You by Jason Reynolds
Genie's summer is full of surprises. The first is that he and his big brother, Ernie, are leaving Brooklyn for the very first time to spend the summer with their grandparents all the way in Virginia—in the COUNTRY! The second surprise comes when Genie figures out that their grandfather is blind. Thunderstruck, Genie peppers Grandpop with questions about how he hides it so well (besides wearing way cool Ray-Bans).
How does he match his clothes? Know where to walk? Cook with a gas stove? Pour a glass of sweet tea without spilling it? Genie thinks Grandpop must be the bravest guy he's ever known, but he starts to notice that his grandfather never leaves the house—as in NEVER.
Reprinted by permission of publisher, Simon and Schuster. Copyright 2016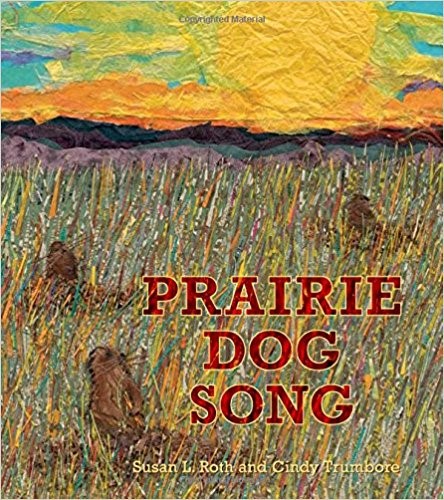 Prairie Dog Song: The Key to Saving North America's Grasslands by Susan L. Roth and Cindy Trumbore
For thousands of years, green and gold grasses covered North America from Canada to Mexico. The prairie and desert grasslands were home to a variety of animals, from small prairie dogs to huge bison. But in the nineteenth century, ranching and farming took hold in the grasslands, and over time many of the animals and plants vanished.
Then, in the late 1980s, scientists discovered a region in Mexico where green and gold grasses still waved and prairie dogs still barked. The scientists understood the importance of this grassland ecosystem and the prairie dogs' key role in it. Could they now preserve the area and bring back its lost animals and plants?
Reprinted by permission of publisher, Lee & Low Books Inc. Copyright 2016
Save Me a Seat by Sarah Weeks and Gita Varadarajan
Joe's lived in the same town all his life, and was doing just fine until his best friends moved away and left him on his own.
Ravi's family just moved to America from India, and he's finding it pretty hard to figure out where he fits in.
Joe and Ravi don't think they have anything in common -- but soon enough they have a common enemy (the biggest bully in their class) and a common mission: to take control of their lives over the course of a single crazy week.
Reprinted by permission of publisher, Scholastic Press. Copyright 2016
2018-2019 Master lists
Grades 6-8
Ms. Bixby's Last Day by John David Anderson
Everyone knows there are different kinds of teachers. The boring ones, the mean ones, the ones who try too hard, the ones who stopped trying long ago. The ones you'll never remember, and the ones you want to forget. Ms. Bixby is none of these. She's the sort of teacher who makes you feel like school is somehow worthwhile. Who recognizes something in you that sometimes you don't even see in yourself. Who you never want to disappoint. What Ms. Bixby is, is one-of-a-kind.
Topher, Brand, and Steve know this better than anyone. And so when Ms. Bixby unexpectedly announces that she won't be able to finish the school year, they come up with a risky plan, more of a quest, really, to give Ms. Bixby the last day she deserves. Through the three very different stories they tell, we begin to understand what Ms. Bixby means to each of them—and what the three of them mean to each other.
Reprinted by permission of publisher, HarperCollins Publishers. Copyright 2016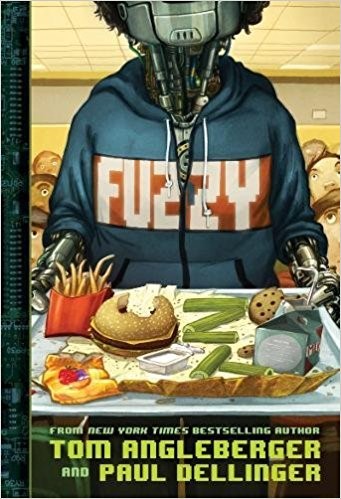 Fuzzy by Tom Angleberger and Paul Dellinger
When Max—Maxine Zelaster—befriends her new robot classmate Fuzzy, part of Vanguard One Middle School's new Robot Integration Program, she helps him learn everything he needs to know about surviving middle school—the good, the bad, and the really, really, ugly.
Little do they know that surviving seventh grade is going to become a true matter of life and death, because Vanguard has an evil presence at its heart: a digital student evaluation system named BARBARA that might be taking its mission to shape the perfect student to extremes!
Reprinted by permission of publisher, ABRAMS. Copyright 2016
The Girl Who Drank the Moon by Kelly Barnhill
Every year, the people of the Protectorate leave a baby as an offering to the witch who lives in the forest. They hope this sacrifice will keep her from terrorizing their town. But the witch in the Forest, Xan, is kind. She shares her home with a wise Swamp Monster and a Perfectly Tiny Dragon. Xan rescues the children and delivers them to welcoming families on the other side of the forest, nourishing the babies with starlight on the journey.
One year, Xan accidentally feeds a baby moonlight instead of starlight, filling the ordinary child with extraordinary magic. Xan decides she must raise this girl, whom she calls Luna, as her own. As Luna's thirteenth birthday approaches, her magic begins to emerge--with dangerous consequences.
Reprinted by permission of publisher, Algonquin Books of Chapel Hill. Copyright 2016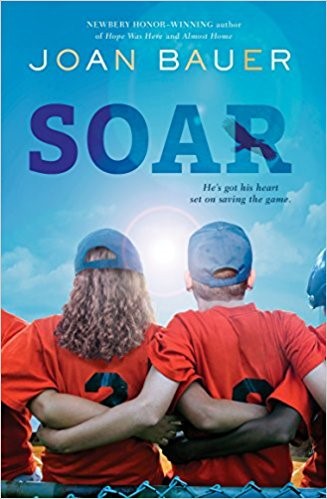 Soar by Joan Bauer
Jeremiah is not one to let anything keep him down. Starting with his adoption by computer genius Walt, Jeremiah has looked on his life as a series of lucky breaks. When a weak heart keeps him from playing his beloved baseball, Jeremiah appoints himself the team coach
When Walt has to move for another new assignment, Jeremiah sees it as a great chance to explore a new town. But no sooner do they arrive than a doping scandal is revealed and the town feels betrayed and disgraced. Jeremiah takes it as his personal mission to restore the town's morale and help the teams bounce back and remember how to soar. Full of humor, heart, and baseball lore, Soar is Joan Bauer at her best.
Reprinted by permission of publisher, Penguin Random House. Copyright 2016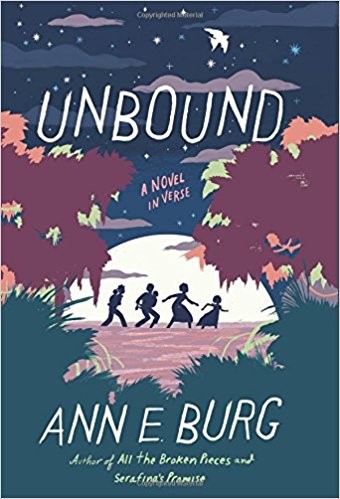 Unbound: A Novel in Verse by Ann E. Burg
The day Grace is called from the slave cabins to work in the Big House; Mama makes her promise to keep her eyes down. Uncle Jim warns her to keep her thoughts tucked private in her mind or they could bring a whole lot of trouble and pain.
But the more Grace sees of the heartless Master and hateful Missus, the more a rightiness voice clamors in her head-asking how come white folks can own other people, sell them on the auction block, and separate families forever. When that voice escapes without warning, it sets off a terrible chain of events that prove Uncle Jim's words true. Suddenly, Grace and her family must flee deep into the woods, where they brave deadly animals, slave patrollers, and the uncertainty of ever finding freedom.
Reprinted by permission of publisher, Scholastic Press. Copyright 2016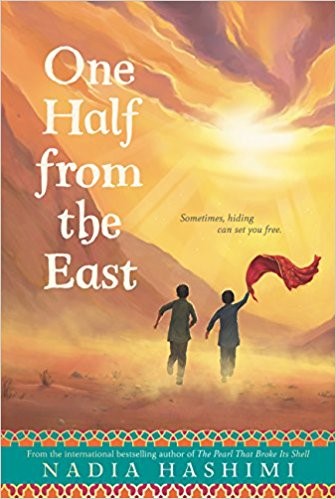 One Half from the East by Nadia Hashimi
Obayda's family is in need of some good fortune, and her aunt has an idea to bring the family luck—dress Obayda, the youngest of four sisters, as a boy, a bacha posh.
Life in this in-between place is confusing, but once Obayda meets another bacha posh, everything changes. Their transformation won't last forever, though—unless the two best friends can figure out a way to make it stick and make their newfound freedoms endure.
Nadia Hashimi's first novel for adults, The Pearl That Broke Its Shell, was a bestseller that shares a bacha poshcharacter with One Half from the East.
Reprinted by permission of publisher, HarperCollins Publishers. Copyright 2016
Ghost by Jason Reynolds
Ghost wants to be the fastest sprinter on his elite middle school track team, but his past is slowing him down in this first electrifying novel in a new series from Coretta Scott King/John Steptoe Award–winning author Jason Reynolds.
Ghost. Lu. Patina. Sunny. Four kids from wildly different backgrounds with personalities that are explosive when they clash. But they are also four kids chosen for an elite middle school track team—a team that could qualify them for the Junior Olympics if they can get their acts together. They all have a lot to lose, but they also have a lot to prove, not only to each other, but to themselves.
Reprinted by permission of publisher, Simon and Schuster. Copyright 2016
Samurai Rising: The Epic Life of Minamoto Yoshitsune by Pamela S. Turner
Stirring narrative nonfiction recounts the rise of Minamoto Yoshitsune from seemingly doomed infant to immortal warrior-hero (and one of the most famous samurai in Japanese history). Acclaimed author Pamela S. Turner delivers all the drama, romance, and tragedy of the original story--with delightfully dry wit and a healthy dose of modern perspective. Gorgeous ink paintings by celebrated graphic-novelist Gareth Hinds complete this irresistible package.
Reprinted by permission of publisher, Charlesbridge Publishing. Copyright 2016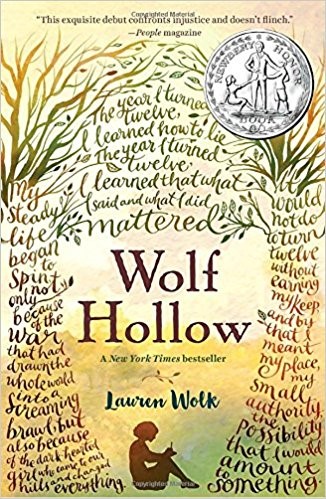 Wolf Hollow by Lauren Wolk
Growing up in the shadows cast by two world wars, Annabelle has lived a mostly quiet, steady life in her small Pennsylvania town. Until the day new student Betty Glengarry walks into her class. Betty quickly reveals herself to be cruel and manipulative, and while her bullying seems isolated at first, things quickly escalate, and reclusive World War I veteran Toby becomes a target of her attacks. While others have always seen Toby's strangeness, Annabelle knows only kindness. She will soon need to find the courage to stand as a lone voice of justice as tensions mount.
Reprinted by permission of publisher, Penguin Random House. Copyright 2016